Stephen D. Anesi, MD, FACS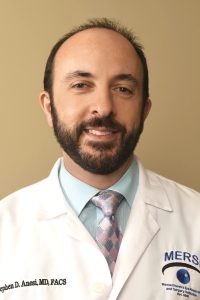 Stephen Anesi, MD was born in Van Nuys, California. He attended the University of California, Los Angeles, and graduated Cum Laude with a Bachelor of Science degree in Physiological Science in 1999. He continued his studies at the University of California, Los Angeles, earning a Master's Degree in Physiological Science in 2000. Dr. Anesi earned a Doctorate of Medicine in 2006 from the Keck School of Medicine at the University of Southern California. Upon completion of his Surgical Internship at UCLA Medical Center in 2007, he traveled east to Nassau University Medical Center in East Meadow, New York for his Residency in Ophthalmology. After completion of his residency in 2010, where he served as Chief Resident, Dr. Anesi traveled to Cambridge for his Fellowship in Ocular Immunology and Uveitis with Dr. C. Stephen Foster.
Upon his completion of his fellowship with Dr. Foster in June, 2011, he was invited to join the medical staff at MERSI as a staff physician. In 2016, he became an Associate Partner at MERSI.
Dr. Anesi sees and treats patients with uveitis, scleritis, keratitis, dry eye, cataracts, glaucoma, and general ophthalmology issues.
Keck School of Medicine,
University of Southern California | 2002-2006
• Doctor of Medicine
University of California, Los Angeles,
Department of Physiological Science | 2000-2002
• Research Associate – Retinal electrophysiology
University of California | 1999-2000
• Master of Science in Physiological Science
University of California | 1994-1999
• Bachelor of Science in Physiological Science, Minor Neuroscience
• College and Departmental Honors, Cum Laude
Massachusetts Eye Research
& Surgery Institution | 2010-2011
• Ocular Immunology & Uveitis Fellowship
Nassau University Medical Center | 2007-2010
• Ophthalmology Residency
UCLA Medical Center | 2006-2007
• Surgery Internship, Preliminary
Ocular inflammatory diseases
Cornea
Glaucoma (medical, surgical & MIGS)
Cataract
Medical retina
Uveitis
Scleritis
Episcleritis
Optic neuritis
Orbital inflammation
Dry eye
Ocular allergy
Keratoconus
Pseudophakic bullous keratopathy
Autoimmune retinopathy
Ocular cicatricial pemphigoid
Stevens-Johnson syndrome
Autoimmune and infectious keratitis
Corneal ulcer
Vitreoretinal lymphoma
Routine and complex cataracts
Aphakia and subluxated intraocular lens
Glaucoma and ocular hypertension
Macular degeneration
Diabetic retinopathy
Retinal vascular occlusion